Resource Tuner: Kundenstimmen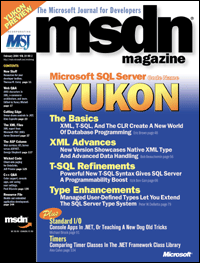 MSDN Magazine, Feb 2004: Tune Up 32-bit Windows Executables



Resource Tuner bietet einen vollständigen Überblick aller Ressourcen (Bitmaps, Icons, Zeilen etc) in der Datei und erlaubt Änderungen, ohne dass Sie den Quellcode neu kompilieren müssen.

Unsere Kunden sagen

Ich habe Resource Tuner unter Download.com gefunden und fand es so leicht zu bedienen, dass ich mich zum Kauf entschlossen habe: leichte und intuitive GUI, die die Bearbeitung der .dll-Dateien ermöglicht.

Noel Morrison
CNET Networks

Ich könnte möglicherweise für diese Aufgabe auch eine Freeware finden, aber für den geschäftlichen Einsatz würde ich generell keiner Freeware vertrauen.

Howard A Moon
Antares Audio Technologies

Von der ersten Minute nach der Installation konnte ich alle Infos ändern, die ich wollte... Kein stundenlanges Lesen von Handbücher oder Menüs, nur eine kleine Eingabe und ein Klick auf die "Anwenden"-Schaltfläche... Ich werde auf jeden Fall Ihre Software an Freunde und Kollegen empfehlen.

Pat Stradeski

Resource Tuner ist der beste Ressourcen-Betrachter, den es je gab! Als professioneller Windows Software Designer, kann ich alle Motive/Skins und Binärdateien mühelos bearbeiten. Ja, es gibt eine Freeware, mit fast dem selben Funktionsumfang, aber ich muss gestehen, dass ich Ihr Produkt viel lieber mag! Vielen Dank!

Amirz Hendrix

Die kostenlosen Produkte, die ich getestet habe, konnten die Ressourcen, die mich interessierten, nicht öffnen. Außerdem ist die Benutzeroberfläche super einfach zu bedienen. Kein Muss, kein Stress, kein Vis-Studio welches meine Kiste abstürzen lässt. Machen Sie weiter mit der guten Arbeit.

Mark Merchant

I tried using mt.exe [from MS Visual Studio] to manifest my files. It worked on some but not on others. It seems your method of parsing the .EXE is more robust than the one that mt.exe uses.

Brad Siegfried,
BLS, Inc.

Great flexibility in handling various types of binaries, Windows resource editing capabilities (DFM-Files!)

F.M. Rotzler

The reason I chose Resource Tuner was simply that it works - I had previously been using Borland's Resource Workshop for my work, which is (non-commercial) localization, but I had been having difficulty using it with Far Eastern locales. The evaluation version of Resource Tuner, on the other hand, worked perfectly, and I was startled at how cheap it was to register (I would normally expect to pay at least twice as much for a program of this quality).

Peter Jolly

I searched google.com for a Resource Viewer and you were right in the top of the list. I played with your trial version for only a few minutes and I was hooked! It's even more than I was looking for and I'm happy to add it to my arsenal of tools. I hope you keep on doing active development for the tool!

Aaron Ford

My company develops games using Macromedia Director. If you've never tried to publish a professional looking executable with Director then you haven't experienced true pain. <smile> Quick and easy access to all the resources which are normally inaccessible really allows us to make a more complete app.

Rett Crocker
Adveractive, Inc.

I registered the program because I saw great potential for using it to edit the GUI of programs I have on my system. What really made me like it was when I was able to remove the ads from ICQ by editing the icqcore.dll file. I also see potential for editing system bootscreens and other things. This was the only program that offered the ease of use and functionality I needed.

Michael Wright

I'm using your product to edit Macromedia Directors .skl file changing out the icons with those used in an interactive CD we are developing for an Independent School District. I choose your program because upon evaluation it performs exactly as I needed with no effort.

Mike
Starten Sie mit dem Tuning Ihrer Anwendungen
Kaufen Sie Resource Tuner und fangen Sie mit Tuning, Design und Übersetzung all Ihrer Software an. Falls Sie Resource Tuner nur für private Angelegenheiten nutzen, können Sie günstig Persönliche Lizenz für 44.95 € nutzen.

Persönliche Lizenz .......... € 44.95
1 User Business-Lizenz ... € 79.95

Download 30-Tage Resource Tuner Testversion

Kaufen Sie die Vollversion